The main tools for editing PDF files
In our last article we talked about PDF Escape and how this online editor allows us to compile and edit PDF files.
Today we will talk about other important tools that you can use when you need to work with files in pdf format. On the web we can find numerous free tools, but in this article we have selected the main ones.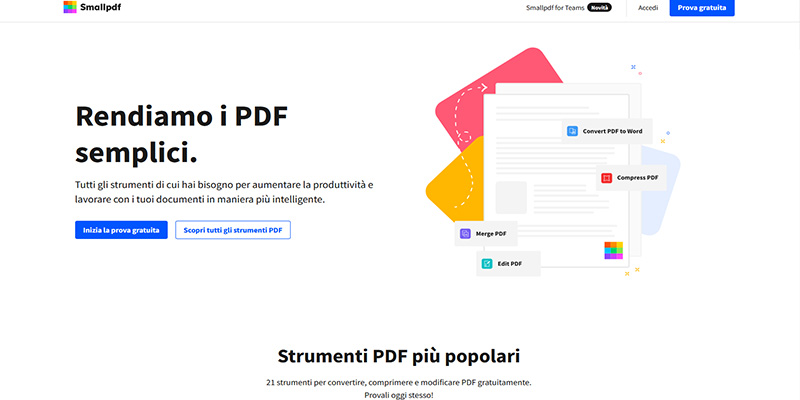 Small PDF is a free online platform that allows you to perform different types of operations on PDF files.
Compress them, or reduce their size without, however, making changes to the contents of the same.
This is a function of great practical use.
First, a large file is more difficult to send and, normally, it is necessary to resort to means created ad hoc (see how to send files heavy from your pc).
Secondly, when a heavy file has to be uploaded to a website, two circumstances can occur:
– at best the upload ends successfully but the imported file slows down the page loading enormously, dissuading users from waiting to view it and increasing the site abandonment rate (which, it is not superfluous to remember, negatively affects the positioning of the site on search engines);
– in the worst case, the file upload does not even take place. So compressing the file size can be an excellent ploy to overcome these problems.The operation is very simple:
a) linked to Small PDF (https://smallpdf.com/it).
b) in the initial screen you will have the possibility to choose between a series of options: for example select the item "Compress PDF".
c) at this point you will be prompted to import the file you want to compress, selecting it from those in your PC memory or choosing it from those included in cloud storage such as Dropbox or Google Drive.
Once the file is compressed, it will be sufficient to save it wherever you want.
Convert a file from PDF to another format (PPT, JPG, EXEL or WORD) or the other way around (from PPT, JPG, EXEL or WORD to PDF).
The procedure is exactly the same as for the conversion. Simply select the desired conversion option and then upload the relevant file.
Merge PDF files
Upload multiple pdf files and merge them into one file
Split PDF files
If you have a PFD file consisting of multiple pages and you are interested in creating one with only some of them, just upload the file and select the pages concerned.
Small PDF will create a new PDF file consisting only of the pages you have indicated.
Rotate a PDF file
You can select the entire document or individual pages of it and then rotate them clockwise or counterclockwise.
iLovePDF è un altro strumento online utilizzato per i file PDF. Si tratta di una piattaforma che non richiede nessuna installazione ed è completamente gratuita. Come lo strumento precedente anche iLovePDF permette di comprimere PDF, unire e dividere file, convertire documenti Office e immagini in PDF e viceversa.
Il servizio offre anche la possibilità di:
modificare i file PDF: consente di aggiungere immagini e testi, ma anche di cambiare le dimensioni e molto altro;
rimuovere la password che è stata impostata per visualizzare e modificare il file PDF: la piattaforma permette di sbloccare il file e di procedere con le modifiche desiderate;
proteggere il file con una password: ti permette di impedire gli accessi che non sono autorizzati;
aggiungere i numeri di pagina al documento.
Tutte le attività appena descritte sono molto semplici e intuitive.
Di seguito i passaggi che devi compiere per riuscire a svolgere l'operazione desiderata:
per prima cosa è necessario collegarsi a https://www.ilovepdf.com/it;
procedere con l'operazione e cliccare sulla voce scelta;
caricare il file (può trattarsi di un file PDF, di un'immagine o anche di un documento di altro formato, come Excel o PowerPoint);
selezionare l'opzione che desideri compiere.
A questo punto il file verrà scaricato automaticamente dal sistema e potrai procedere con il salvataggio nella cartella desiderata.
L'operazione può essere considerata finalmente conclusa.
Do you want to know how to increase visits to your website?
Book a free appointment online now.
This is another tool that allows you to perform various operations directly from your browser. Unlike the previous ones, PDF2GO is structured in four columns, each of them represented with a different color:
Editing a PDF file: this column is shown in yellow and indicates all the activities related to editing the file such as joining PDF files, rotating the pages of the document or creating a new file.
Enhance PDF files: This column is represented by the red color and allows you to compress a PDF, restore a file, protect the document and even unlock it.
Convert from PDF: This column is depicted in purple and allows you to convert PDF files to any other format.
Convert to PDF format: this column is represented by the color green. The proposed activities allow you to convert any type of file (JPEG, Excel, Word…) into PDF documents.
The system works exactly like those described above. You will need to connect to https://www.pdf2go.com/it and click on the relevant item. At this point you will have to upload the document and wait for the processing by the system. The process will be very quick and easy.
The service offers two solutions:
a free plan that has limitations in relation to the maximum file size and number of files;
a premium plan that allows full and unlimited access to all the tools offered.
ABCD is another online tool to carry out this type of activity. The structure of ABCD is very similar to the tools we have already seen and the activities are also the same.
In this case it will be necessary to connect to the site https://abcdpdf.com/ and here it will be possible to choose the activity to be carried out by clicking on the item of interest . For example, if you click on the "Edit PDF" item, the following screen will open:
At this point you will have to select the PDF file you want to edit, either by importing it from your device or by selecting it from Google Drive or Dropbox.
Once selected, the system will download the new file and you can save it in one of the folders on your device.
The service offers a free plan that allows you to carry out all activities in a limited way, otherwise you can proceed with the subscription to a monthly subscription, choosing between the premium or business version.